Your Source for Medical Laboratory Directors
Lighthouse Lab Services staffs and recruits highly qualified, Medical Laboratory Directors to more than 200 CLIA-accredited labs across the country. Our Clinical Lab Director Services help labs of all sizes find the experienced management they need to succeed.
With a network of more than 5,000 qualified candidates, LLS has the largest network of Medical Directors who can guide your laboratory successfully and compliantly.
Part-Time Lab Director Service
Our Part-Time Medical Lab Director Services are ideal for small laboratories and startups seeking help with the complex monthly reports necessary for state and federal regulatory requirements. Lighthouse Lab Directors have the experience and knowledge necessary to ensure the present and future success of your laboratory.
As the leader in recruiting and staffing for clinical labs, we have placed more than 1,000 directors throughout the country in all lab specialties.
We staff Part-Time Medical Lab Directors who will review your SOPs and sign off on changes, monthly quality control logs, and perform all other appropriate responsibilities as dictated by CLIA. Your selected Laboratory Director completes these functions through a combination of remote and on-site involvement. Most monthly tasks can be completed remotely, but our Part-Time Lab Directors will be on-site at your lab at least once per quarter and for inspections if requested.
Full-Time Lab Director Service
Lighthouse also specializes in the full-time placement of board-certified Pathologists and Ph.D.s. Our emphasis on quality and customer service sets us apart and allows us to offer risk-free recruiting services to you with a 90-day replacement guarantee. Save your time and effort; allow LLS to find a medical director for your laboratory.
As the highest-level position within your lab, the Medical Lab Director must meet very stringent qualifications. Our team of regulatory experts understands the requirements for all 50 states to ensure your new Lab Director has the experience and competence to successfully run your laboratory. LLS guarantees your lab director will have all certifications, both federal and state, necessary to fulfill their responsibilities. Reach out to LLS today to hire an experienced laboratory director for your business.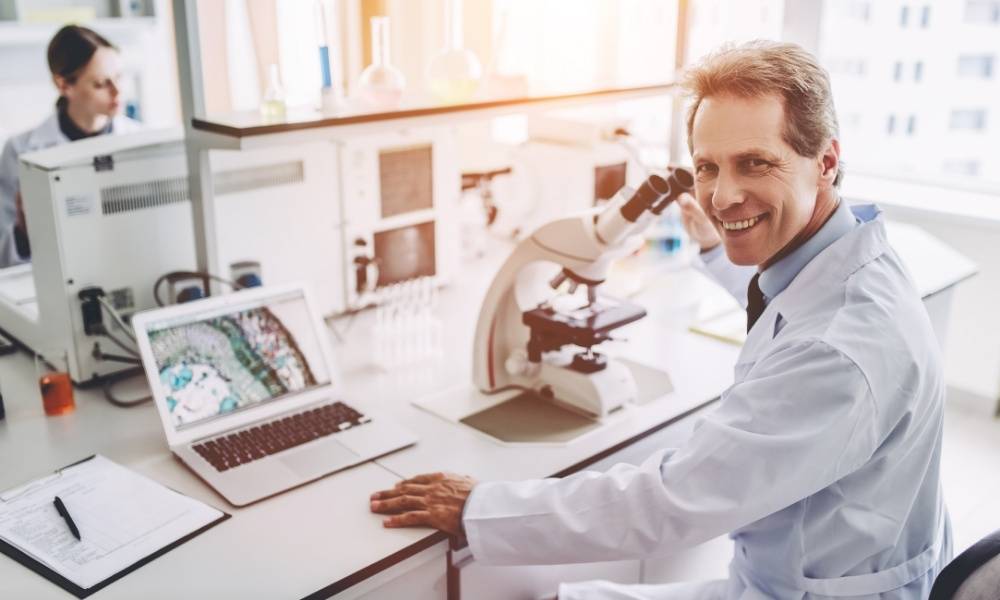 Are you a Lab Director or Pathologist interested in new work opportunities?

check_circle A 90-day risk-free, contingent-based service — you only pay if the candidate stays.

check_circle Tracking changes in qualifications for Lab Directors and alerting you to those changes.

check_circle Our Part-Time Medical Lab Directors will help prepare you for your inspections.

check_circle Guarantee of necessary qualifications to fit your laboratory.

check_circle All-inclusive fees for you and the candidate.
"We are all impressed with the work that Lighthouse Lab Services does to help the clinical laboratory community... We have been working tirelessly over the last year tackling all of the complexities involved in starting up a clinical lab from scratch… We are… overjoyed to have [a lab director] onboard via Lighthouse."
Christine Barnard, Founder & CEO, Atlas Quality Assurance Laboratories
"It's my pleasure working with Lighthouse on recruiting our Lab Director. [Candidates]…spoke highly of your company. They trust the quality service and the transparency your team has provided them. We can certainly understand why we feel the same way about your knowledge in the lab field and Lighthouse Lab Services putting the clients' interest at heart."
Reference Lab Recruiting Client
"We hired a MLT and Lab Director thanks to Lighthouse and everything has been smooth sailing. They are both knowledgeable, thorough, professional and have helped our practice tremendously. Thank you again Lighthouse for matching us perfectly."
"We love Lighthouse. Incredible support. Great account management. Superior technical support. We all talk about how great it has been to work with [Lighthouse]. We cannot say enough positive about the company. "
R. Scott LaNeve, General Manager, Drugscan, Inc.
"My lab just finished the validation of a Turn-Key Covid-19 lab using Lighthouse Lab Services. We had a great experience and are looking forward to future projects as we grow. They assisted with everything from finding equipment, supplies, validation and training. I highly recommended them."
Ameritech Diagnostic Labs
"I want to commend your team (again) for being such great partners. Your service levels have been the best of any of our Covid suppliers – instrumentation, supplies, and/or reagents. We are grateful we found Lighthouse and look forward to working together."
Consulting & Covid Assay Client
"Impressive Team and always ready to serve!"
Shea Harrelson, Vikor Scientific
"Lighthouse is professional, responsive, and has always provided quality candidates."
What is the cost for a Part-Time Medical Lab Director?
Rates start at $2,000 per month for lab director services. Rates vary based on the types of testing conducted, the lab's location, and any additional credentials required.
What is included in the Part-Time Medical Lab Director cost?
Our rates are all-inclusive; your fee will cover the lab director's compensation + our recruitment and on-going administrative support of this individual.
What types of Physician Office & Independent Reference Labs can a Part-Time Lab Director Oversee?
Toxicology Screening and Confirmation
Chemistry
Hematology
Anatomic Pathology
Genetics
Microbiology
Molecular
Blood Bank/Transfusion Medicine
Urinalysis
And more! Contact us for a comprehensive list.
What are the 9 board certifications that CMS recognizes for CLIA High Complexity Lab Directors?
The qualification for a laboratory director of high complexity testing at 42 CFR 493.1443(b)(3)(i) is that the laboratory director must hold an earned doctoral degree in a chemical, physical, biological or clinical laboratory science from an accredited institution and be certified and continue to be certified by a board approved by HHS.  The current approved boards are the following:
ABB – American Board of Bioanalysis 
ABB public health microbiology certification
ABCC – American Board of Clinical Chemistry
ABFT – American Board of Forensic Toxicology (limited to individuals with a doctoral degree with Fellow status) 
ABMGG – American Board of Medical Genetics and Genomics (formerly known as American Board of  Medical Genetics (ABMG))
ABMLI – American Board of Medical Laboratory Immunology
ABMM – American Board of Medical Microbiology

ACHI -American College of Histocompatibility and Immunogenetics (formerly known as American Board of Histocompatibility and Immunogenetics (ABHI))

NRCC – National Registry of Certified Chemists (limited to individuals with a doctoral degree)
What is a typical recruiting fee for a Full-Time Medical Director?
Our recruiting services are contingent only, meaning that you will only be invoiced if you hire a candidate with whom we've connected you. We charge a one-time recruiting fee equal to 25% of the first year's base salary of the hired individual; thereafter, they are your direct employee. To offer contingent-only recruiting, we execute a contract for the recruiting service upfront to cover the terms should you hire one of our candidates; if you find someone yourself, you'll never receive an invoice from us. If you do decide to hire one of our candidates, we will send you an invoice on his/her start date for the recruiting fee, which will be due within 30 days of the employment start date; we also guarantee that candidate for 90 days, so if he/she doesn't work out for any reason within that first 90 days of employment, we will replace that candidate at no additional cost.
Is there a possibility for Medical Directors to work remotely?
Most of our full-time positions, including that of Medical Director, typically require full-time, on-site work 40 hours per week. If a particular possibility allows for 100% remote working or a combination of remote and on-site work, this information should be clearly indicated in the specific job description.
Most Part-Time LDs' work is completed remotely with regular on-site visits scheduled.
What shift do Medical Directors work?
Most full-time Medical Directors work the day shift (8am – 5pm or 9am – 6pm, etc.); if a particular opportunity is looking for someone to cover a different shift, this will be noted in the specific job description for that position.